NGO Artists 4 children
is a cultural, non-profit organization established in 2006 by a film producer Renáta Králová.
We bring actors to places where theatres do not usually play and where they help
to forget suffering and pain.
WE PLAY FOR CHILDREN:

in Czech hospitals

in refugee camps in countries struck
by natural disasters or military conflicts
(on Sri Lanka, in Bosnia, Kosovo
Palestine and Gaza)

in socially outcast Roma communities
in Bohemia, in Slovakia
and in the southern Balkans.
(Bosnia, Kosovo, Macedonia)
Since 2008 we regularly visit southern India, the region around Madras, where we play for the children living in slums, on the streets and for the mentally and physically handicapped children.
Renáta Králová (1963)
Completed studies at DAMU – Theatre Faculty of the Academy of Performing Arts,
Specialization in theatrical production.
Between 1988–1991 she worked in Short Film Prague as production assistant.
At the same time she organized trips of actors and musicians to compatriots living in Czech villages in Romanian Banat.
Between 1992 and 2003 employed as assistant and head of production in the Czech Television.
She cooperated on production of a number of television programs, e.g.:
Trip to India, dir. Igor Chaun
Immortal life and death of Miki Volek, the king of rock and roll, dir. Igor Chaun
Česká soda Series, dir. Milan Šteindler,
Petr Čtvrtníček
Big-Beat Series, dir. Zdeněk Suchý,
Václav Křístek et al.

In 2004 she took part as a producer in production of documentary films:
Jamaica, Do you remember?,
dir. Igor Chaun

Opera Nagano, dir. Igor Chaun, Jakub Sommer, Ondřej Havelka

In 2005, after the Tsunami disaster, organized a trip of Czech actors to refugee camps in southern Sri Lanka. Dozens of plays were performed for children who have lost their homes.
In 2006 she returned to Sri Lanka and remained working there as a coordinator of spare time centres of the humanitarian organization World Vision.

Upon her return in June 2006, she established a cultural, non-profit organization Artists 4 children.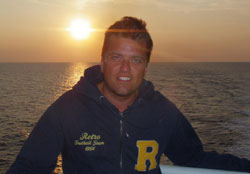 Pavel Šafránek (1975)
Renaissance man... He worked as a script editor and a screenwriter in TV Prima.
As an author, he took part in a number
of multi-media projects, videos and short films.
He handled full production of a number
of concerts and artistic performances.
In 2010 he participated on the script and directed the performance
"Krásný nálezy - Beautiful findings"
(meeting of Laco Deczi with his friends).
He is currently undertaking as technical producer, light designer and a producer.
He has been cooperating with Artists 4 children as a produced and web designer since 2010.